EFA President calls for greater autonomy to strengthen democracy in speech to Femu A Corsica General Assembly
On Sunday the 15th of January, EFA member party Femu a Corsica held its General Assembly in Corti, Cismonte under the banner of "Autunumia, Populu, Demucrazia – Autonomy, People, Democracy".
Gathering over 800 delegates from Corsica and beyond, the General Assembly focused on a call for true legislative powers for the Corsican Assembly, greater autonomy & dialogue, and demanding justice for Yvan Colonna*.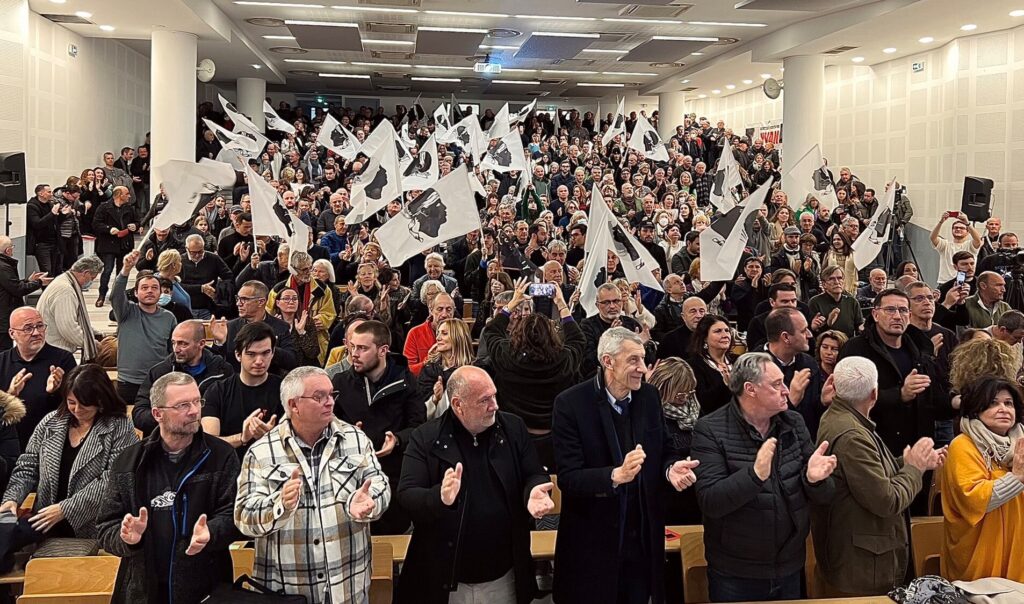 The General Assembly comes at a crucial time for Corsican autonomy owing to the suspension of discussions between the Corsican Assembly and the French state, and a renewed call to respect Corsican voices and their right to be heard.
A call to build from the ground up
In her address to the general assembly, EFA president Lorena López de Lacalle reiterated EFA's core aim of building democracy from the ground up:
"More autonomy at every level is the key to strengthening democracy. The aim of any democracy is to fairly guarantee its citizens the right to participation and decision-making".
The need for dialogue
She continued by addressing the need for dialogue between stateless nations and states, highlighting the three active discussions in Scotland, Corsica, and Catalonia:
"The only valid tool [to ensure a functioning democracy] is dialogue. Dialogue where the state and those who seek autonomy are on an equal footing and where any agreements made are implemented…"
"It must be understood that movements for autonomy are not movements against anyone, but seek efficient participation of all territories in achieving progress for all"
The assembly also heard contributions from Jean-Félix Acquaviva a Corsican Deputy represented in the Assembly of the French State who recently welcomed an EFA delegation to Paris for discussions on autonomy, island policies and environmentalism with various political groups.
Also in attendance was EFA MEP François Alfonsi, EFA Vice-President Llivia Volpei, President of the Corsican National Assembly Nanette Maupertuis, Gilles Simeoni the president of the Corsican Executive Council, and Antonia Luciani Secretary General of the Coppieters Foundation.
EFA would like to congratulate Femu A Corsica on a successful General Assembly and show our full support to them in their demands for respect for Corsica's autonomy.
*Yvan Colonna was a Corsican political prisoner who was murdered in a French prison. Read EFA's statement on his death here